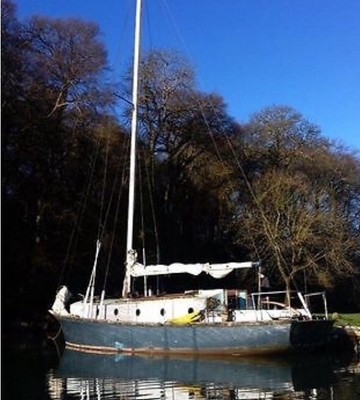 Houseboat/ Yachts Hartley South Seas – £11000.00
197438 foot Hartley south seasBilge keelFerro cemefnt construction 6 berthsPerkins 4108 Diesel engine "Sandpiper" is a very comfortable liveaboard yacht and has been a great home. She is very spacious and open planned with high headroom.She comes with a Glastonbury stoves woodburner, Flavel gimbled oven, heads, depth sounder and fresh water tank. Comes with a set of sails the sails are in dry storage but the rigging is all intact and ready to go . She went out last year and sailed comfortably from Gweek to Penryn, very safe and relaxed, the Bermudan rig is easy to handle and the engine runs smoothly without any trouble. Built in 1974 using the Hartley south seas design. The hull is solid and in great condition. Comes with all the paperwork and surveys to prove that she was professionally built. Last anti foaled in the autum with new anodes. Didn't have time to paint above the water line this will definitely need doing, along with a few minor repairs to coach roof (general wear and tear from gang plank). She is currently berthed in penryn with potential to continue having her there for three months at least. Comes with inflatable dinghy and fiber glass pram dighy with oars. Any questions just ask. Open to sensible offers.
£11000.00
This product is currently listed on eBay. If you wish to purchase the product or would like to contact the seller, then please click the button below. Please be aware that this product may have sold since listing.