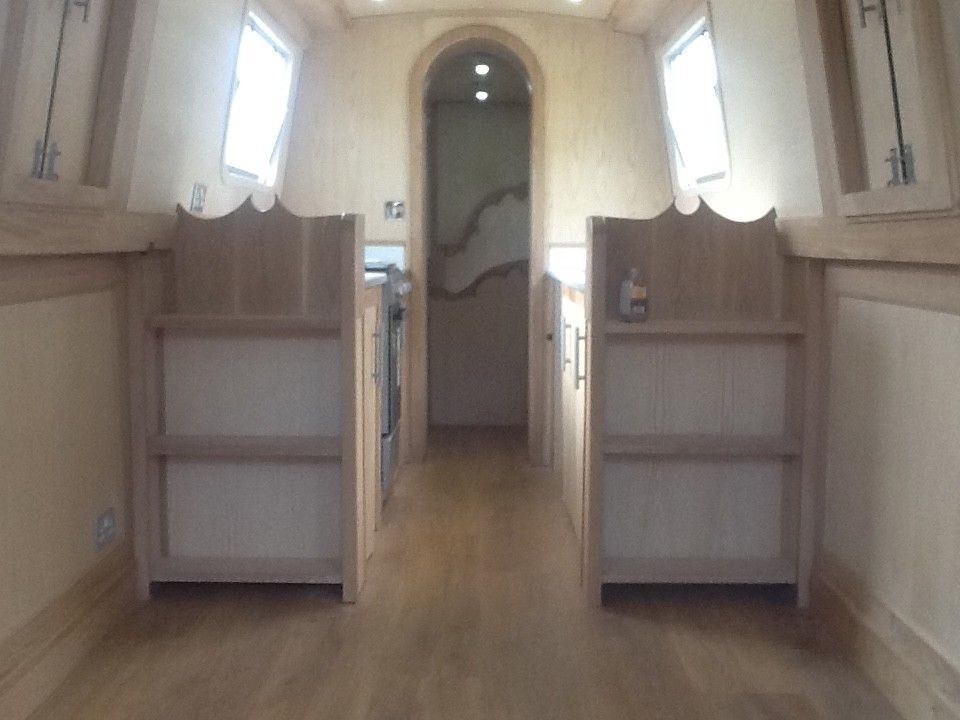 Narrow Boat – £79850.00
I have won 2 awards at Crick Boat Show for favourite boat of the show, and come 2nd twice, that is out of 4 attempt I could not wish for better than that I will attach some more photos showing some of the boats I have built [which are not for sale] I have been building boat 24years now , and having lived on a boat I know just what you need for living on board or long term cruising. This is a 58 ft Narrowboat. Jonathan Wilson Shell. The woodwork is ash and oak with beautiful panelling. In the front saloon is a log burning stove, television cabinet, side opening hatches on both sides,2 matching bookcases, which lead though to the kitchen it has a full gas cooker, sink, astral worktops, plenty of kitchen cupboards & storage, space for 12 v fridge. Next is a beautiful archway with two hidden full hight cupboards in both sides which leads through to the bedroom where there is a beautiful handcrafted double bed & large wardrobe. The bedroom leads through to the bathroom which has a shower cubicle, vanity unit with wash basin & a Thetford cassett toilet. As you turn around you find the washing machine cupboard all plumbed in ready then go though a arch door way into a modern Boatmans cabin which has lots of storage under the benches. The benches make in to a double bed. In this room is the electrical cupboard with 12 v 240v with a 2kw inverter. The lighting is all l.e.d. Which takes very little power out the battery's.There is also full central heating run by a Webasto diesel heaterThe engine is a 45 hp Barrrus also the floor is insulated I don't know of any other company that does this. It is good because it stops the cold from striking throug from the cold water in the canal. For more details or a viewing of the boat please contact me Paul Simpson though eBay.i have a YouTube Chanel which will show how we build all the insides. Hopefully starting in about 8 weeks or when the new boat shell arrives .From The insulation to the finished boat so you can see how each stage of the boat is built , you will see in the Novembers waterway world (Paul Simpson boatbuilder ) with all the infomation you need.
£79850.00
This product is currently listed on eBay. If you wish to purchase the product or would like to contact the seller, then please click the button below. Please be aware that this product may have sold since listing.