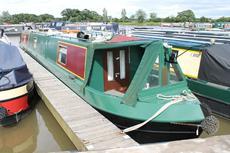 Narrowboat For Sale Very Good Condition – £37000.00
Buster cairn is a 63ft cruiser built in
1998, completed by the previous owner, has been equipped for use as a
live-aboard boat.
The interior is predominantly a painted
finish, and changes in colour allow for a clear break between compartments,
cabin, living area, Pullman style dining area, gallery, bathroom with shower
and pump out toilet, bedroom and utility area.
Equipped with a brand new Lombardini engine. Sterling 230v alternator,
battery charger a twin tub washing machine and water heather. The interior is
painted pine with bamboo hardwood floor/ A larger boat with a lot of space to spare
Buster Cairn is ideal for 2-4 people and extended cuising.
Last blacked was Jun 15, 4 years safety certificated.
Equipment
Steel thicknesses 10-6-4
Stsinless Steel water tank, 200 gallons
Morso solid fuel stove
Gas 2 – 13kg supplied
Inverter-charger, 5 step battery
charger. Solar panels, 2 by 100w each.
Cooking, 4 burner hob, oven, grill
and microwave.
£37000.00
This product is currently listed on eBay. If you wish to purchase the product or would like to contact the seller, then please click the button below. Please be aware that this product may have sold since listing.